Graffiti is very versatile and fits into any interior. It creates depth, creates space and can make a wall disappear. In addition, as a client you have complete freedom about the subject and great control over the end result. Here we show you 10 examples of how graffiti can look like in your own home.
Making the impossible possible through an optical illusion
With graffiti you make the impossible possible: bring nature into your home if you live in the city center or have the New York skyline painted on the wall in your farmhouse. Below is an example of a painting that pushes the boundaries of your room.
A graffiti wall painting on a garden wall
A nice house has a garden where you enjoy spending time. If your garden is adjacent to an ugly wall, you can go there with one wall painting change quickly. In this example of an assignment in Belgium, the neighbor's house served as a canvas. The result of a long day of work? A beautiful mountain landscape with a splashing waterfall.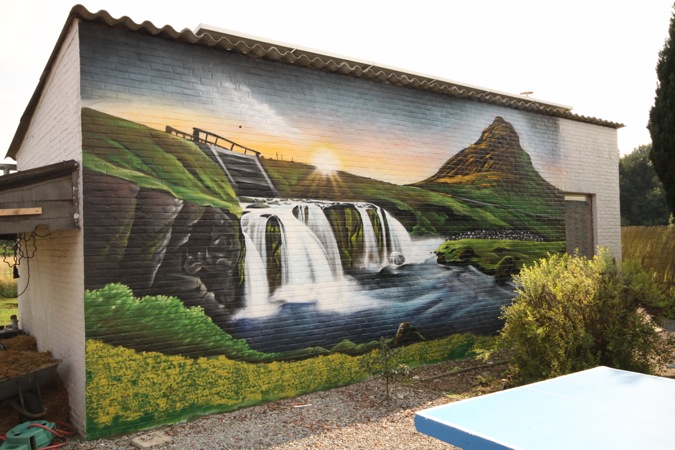 An optical illusion painting
When a wall is 'in the way' but cannot simply be demolished, graffiti is an original solution. At this house we created a tropical view; a optical illusion those suits the refreshing pool better than a gray wall.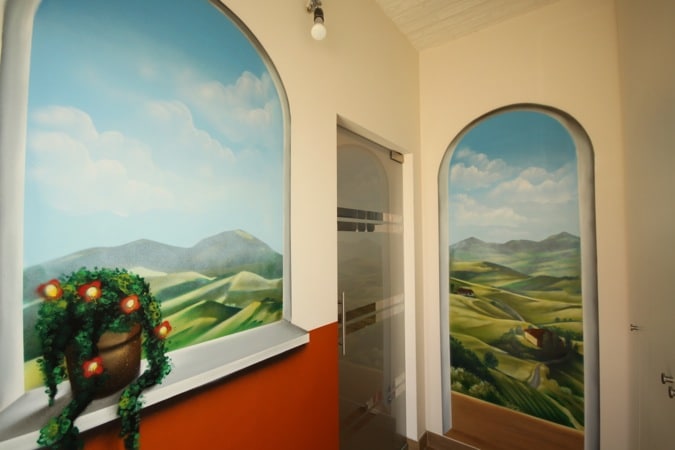 Ceiling painting in public space
Why would you keep a painting for yourself? That is what the project developer of several houses in Hasselt, Belgium must have thought. Graffitinetwerk was asked to enter in the common area, a former church, a ceiling painting in the style of Nick Ervinck. Judge yourself.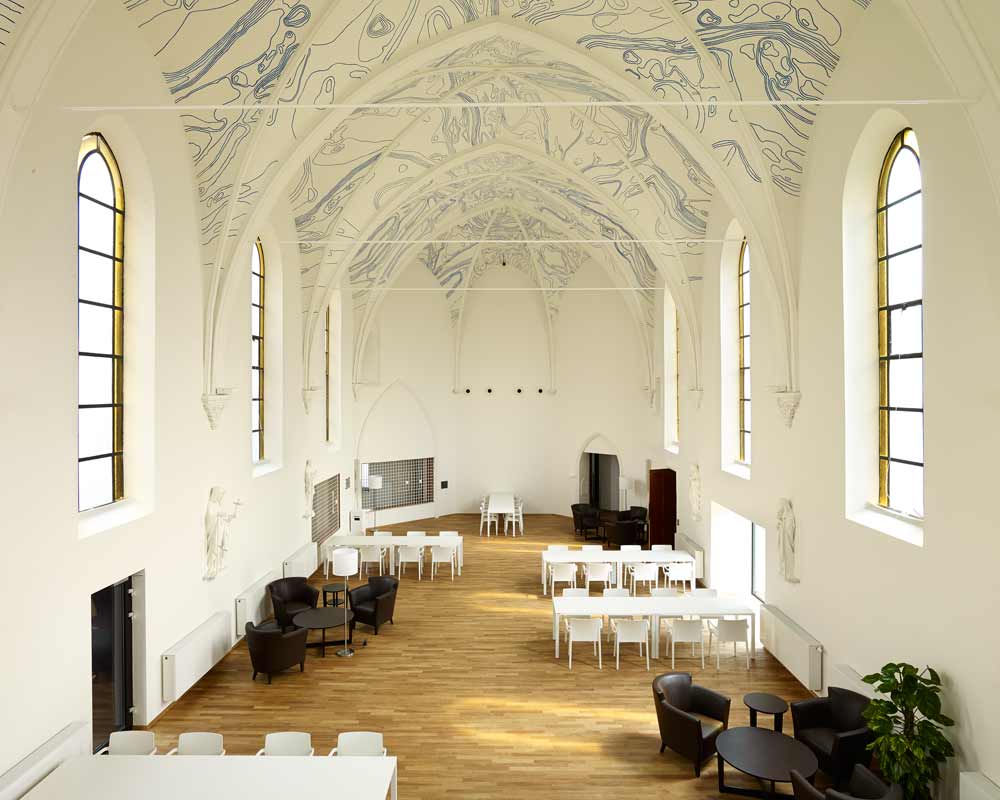 The right style for every interior
Graffiti in the house is really not only suitable for modern and industrial interiors. The examples on this page already show that. And take a look at this eye-catching decoration; you would almost think that it is ready-made wallpaper, that's how refined the artists worked here.
Inspire with street art
The nice thing about graffiti is that you can create every possible scene with it in any style. Where with wallpaper you are very limited to the available designs, with a wall painting everything possible. In this nursery, a tough basketball player was chosen who undoubtedly inspires the child to great sports performance.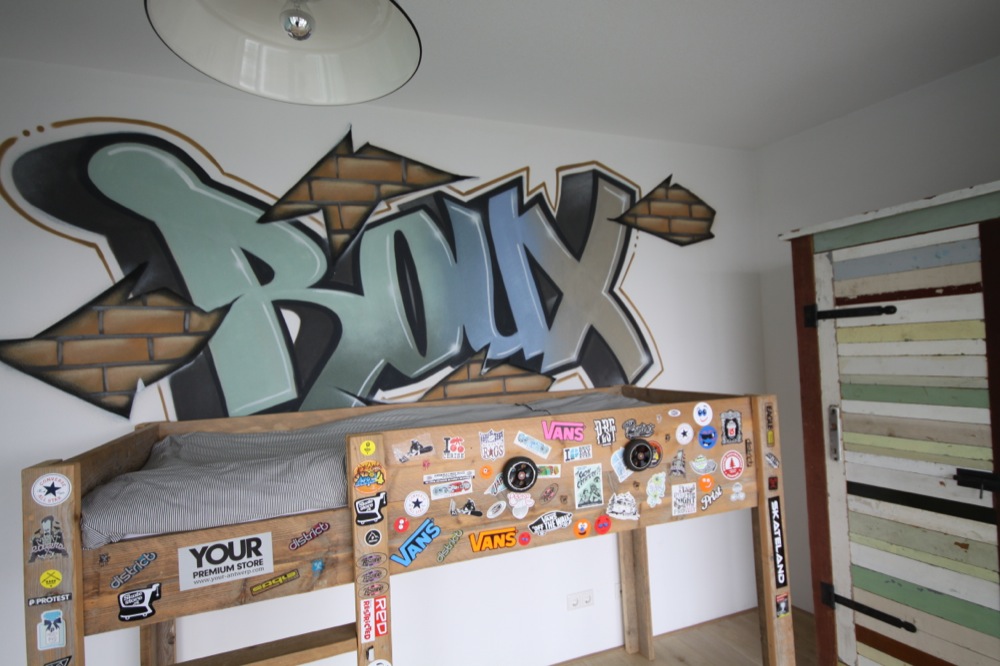 Colorful art in the living room
In the Groningen town of Leek we were allowed to place a graffiti in Martijn's house. We painted an imposing Buddha on his white wall in fluorescent colors, which now forms the radiant center of his interior. Lately this has been type wall painting very popular with those who practice yoga and / or meditate.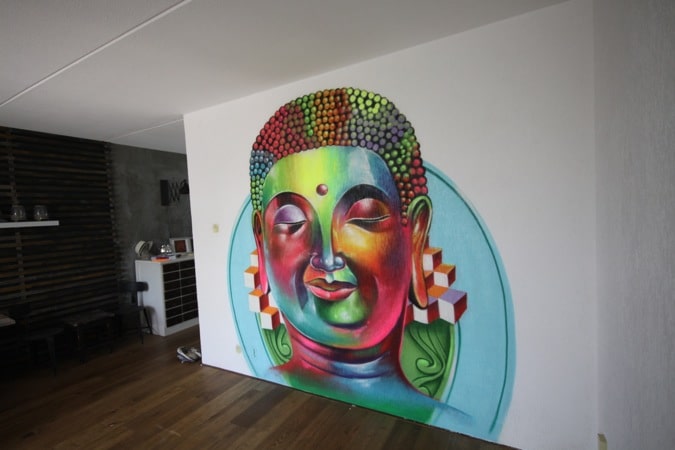 Colors to dream away with
One of the characteristics of graffiti and street-art is the exuberant play of colors. Even in a bedroom this can work out well. The bed linen matches the vibrant colors on the back wall in terms of colors. Sleep tight!
Would you like to have graffiti made at home?
Curious about the possibilities of having a unique graffiti artwork made? The prices of our graffiti paintings are always custom-made. A price is calculated on the basis of the location, the size, the accessibility of the work surface and the complexity of the artwork to be made. Due to the wide variation in prices, we advise you to request a quote without obligation. Contact us now and receive a response today.
Contact Us