In the graffiti workshop Amsterdam
We look forward to welcoming you to our graffiti workshop at one of our locations in Amsterdam but a workshop at your location is of course also possible. Whether it is a company outing, incentive or a team building activity: during our workshops we bring out the creativity in all participants!
It is often quite a challenge: organizing an original group or team outing that everyone likes and provides the necessary team building. Our workshops have all the ingredients for a successful company outing: creative collaboration during an original team building workshop with inspiring guides / artists at urban street-art locations!
You will learn the tricks of the trade graffiti technology and jointly creates its own artwork. Nice to hang on the wall at your home or office afterwards.
Whether it is a company outing, incentive or team building activity: during the graffiti workshop in Amsterdam we bring out the creativity of all participants!
How does our graffiti workshop begin Amsterdam?
First of all, our experienced workshop teachers welcome you. When you enter one of our graffiti workshops Amsterdam Our teachers will point out the use and safety of the materials.
Rest assured, of course we take care of all materials, covering the space and protective clothing.
After the introduction and introduction, we start with the basic techniques. During this creative workshop all aspects of graffiti spraying are discussed.
First of all, the participants individually practice the basic techniques in a program consisting of exercises that increase in difficulty. Later on, a joint start was made on developing the ideas on a blank canvas.
Before going during this creative company outing When working on canvases, the teachers devise a creative concept with the entire group, possibly based on a theme, house style or image that you have contributed.
Read more about our in this blog post team building workshops.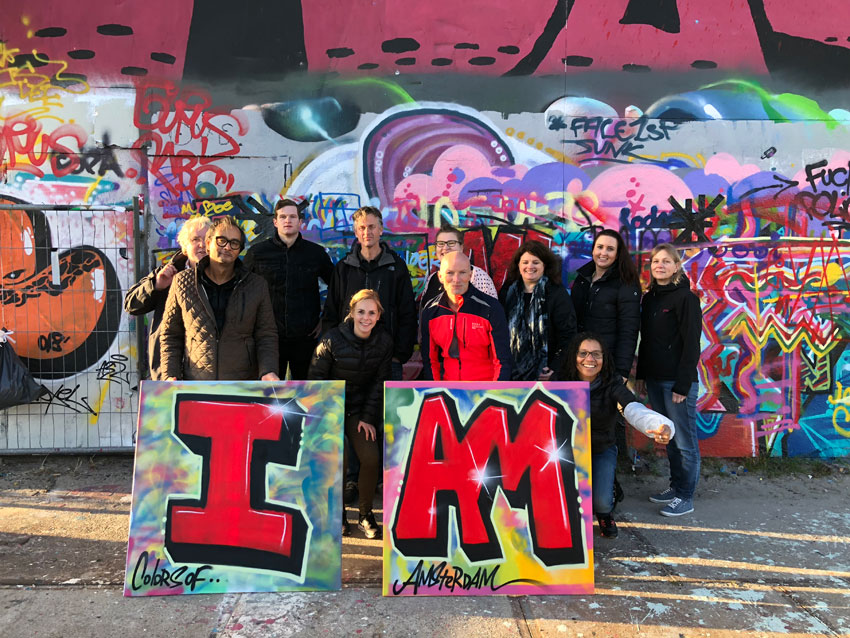 Spraying graffiti as a team building activity or company outing
Are the graffiti artworks ready? Then evaluate our workshop supervisors made the graffiti paintings, in which the groups themselves explain the idea behind the created work. This way everyone knows where the inspiration comes from the participants.
After the spray graffiti workshop you can of course take the artwork with you to give it a place at home or at the office.
Unique workshop locations in and around Amsterdam
Our workshops Spraying graffiti as a company outing Amsterdam given at indoor and outdoor locations. We use various locations for our company outings, incentives and team building activities, most of which are suitable for very large groups.
View the overview of all ours workshop locations in the Netherlands and Belgium. A creative workshop on location in or around Amsterdam is of course possible.
Why this workshop as a creative company outing?
Tough / urban workshop locations in Amsterdam, or on location
A strong team building program, often based on a theme, goal or corporate identity
Collectively create works of art that can be hung directly on the wall
A creative and tough experience, all this time
Suitable for small or large groups (10-2000 pers.)
Schedule 24/7, 365 days a year
Graffitinetwerk has already many successful workshops organized for more than 5000 companies and groups. View examples in our portfolio or read customer reviews on our reviews page.
Photos of our graffiti workshops
Some photos to give an idea of ​​the possibilities. View our extensive portfolio for more examples of our graffiti workshops.
Also a graffiti workshop Amsterdam to follow?
Would you like to participate in one of our creative projects, yourself or with your company, colleagues or friends? graffiti workshops in Amsterdam? Due to the wide variation in prices, we advise you to request a quote without obligation.
Based on the number of participants and the desired location, we are happy to calculate a price for you without obligation. Contact us now and receive information, advice or a price calculation today. See you at our graffiti workshop in Amsterdam!
Contact Us